Papa Owl has decided that this year he is going to make us a Christmas Cake. His mum makes one every year, and usually he persuades her to cut him a healthy chunk which we enjoy over the festive period. This year we are going to have a whole cake!
Now you might have noticed by now that I am no baker. So I had two jobs to do, the first was to take photos! Little Owl and Papa Owl weighed all the fruit and mixed it together. Papa Owl then gave it some brandy to drink.
My second job was to take Little Owl out for the day so Papa Owl could work his magic. I have no idea what was involved but like the good "blogger's hubby" he took some photos.
So that's our Christmas Cake all wrapped up! Literally but not figuratively, as it needs "watering" with brandy once or twice a week until about a week until school breaks up and then its time to ice it ready for the big day!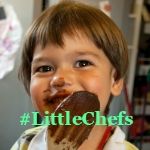 I am joining in with Little Chefs linky. If you click on the picture above you will find a blog where the amazing Baked Potato Mummy bakes amazing food all of the time and with her toddler!
I am also linking up with Thinly Spread for her Festive Friday Linky, all things Christmassy until Boxing Day.